Products Made in USA
Specializing in rhenium, molybdenum, molybdenum-rhenium, tungsten, tungsten-rhenium, and tungsten-copper materials, our products include:
> Wire, flat wire, rod and bar stock
> Foil, sheet, plate and ribbon
Chemicals, perrhenates (APR),
pellets and powders, both standard and alloyed, traditional flaked
and spherical forms
Rhenium MOCVD Heater Filaments
Rhenium Alloys produces the highest quality rhenium heater filaments for the MOCVD Industry. We offer a proprietary, patent pending, surface treatment that increases the heat transfer efficiency without adding the contamination risk from steel shot peening and other aggressive mechanical operations.
Quartz Halogen Lamps
The Rhenium Lamp Group, a division
of Rhenium Alloys, is an established supplier of high-quality rhenium alloys and other advanced materials for use
in nuclear, semiconductor, electronic, space, and other high-tech industries throughout the world. Rhenium Alloys leverages proprietary manufacturing techniques along with state-of-the-art manufacturing equipment to ensure a high-quality, long-lasting IR lamp.
Friction Stir Welding / DuraStir
Rhenium Alloys introduces its DuraStir Line of Friction Stir Welding Tools for solid-state joining. Our DuraStir Tools are proudly MADE IN USA, and are used to Friction Stir Weld hard metals such as steel, titanium and nickel based alloys. Friction Stir Welding provides greater weld thickness, extreme durability, and can be re-dressed multiple times extending the life of the tool.
888-743-6486 (888-RHENIUM) PH: 440-365-7388
Yesterday's Pioneer, Today's Leader.

Welcome To Rhenium Alloys, Inc.
Rhenium Alloys, Inc. is a leading manufacturer of refractory metals and high temperature products, located near Cleveland, Ohio. We bring technology and engineering together to provide innovative solutions to customers in a wide range of industrial, government, and high-tech applications. Committed to continuous improvement in product quality, we operate an extensive research program to identify innovations and technologies in metals and alloys. This site provides an overview of our capabilities, products, and services. Please contact us to discuss your particular alloy and temperature needs.
We manufacture high quality refractory metal and high temperature alloy products such as:
Rhenium (Re) Powder, Pellets, Ammonium Perrhenate (APR), Sheet, Plate, Wire, Flat Wire (Rolled, Drawn, Etched), Rod, Bar, and Ribbon (Commercial Grade and Zone Refined)
Molybdenum (Mo) Wire, Flat Wire (Rolled, Drawn, Etched), Rod, Tubing, Molybdenum LX, Molybdenum LCAC (Low Carbon Arc Cast), and Molybdenum Electrodes
Molybdenum-Rhenium (Mo-Re) Wire, Rod, Tubing, and Sheet
MATERIAL SAFETY DATA SHEETS (MSDS)
MECHANICAL & PHYSICAL
PROPERTIES TABLES
Trade Show Season
Meet us at upcoming trade shows this Spring and Summer 2023. We'll be posting a list in this space soon. We look forward to meeting you in person, and bringing innovative solutions to your products to help your business grow.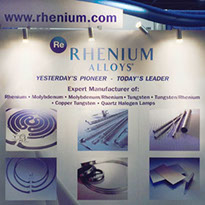 Join Our Team
Interested in employment at Rhenium Alloys? Learn More!
Rhenium Alloys Celebrates 50 Years
Rhenium Alloys proudly celebrates 50 years in business and industry leadership. We thank our employees, customers, and vendors for being part of our company's success over the years. Learn more about our history.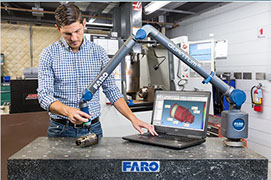 FARO 8-AXIS
The Faro 8-Axis helps Rhenium Alloys speed up and simplify measurements for 3D inspection and quality control. It provides abilities for tool certification, CAD comparison, and dimensional analysis. The system also provides rapid data capture, superior resolution, and high accuracy.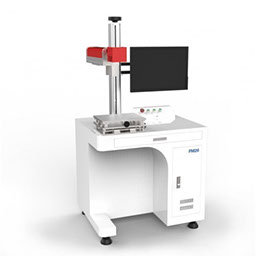 Rhenium Alloys Adds Boss FM20 Laser Engraver
Rhenium Alloys has purchased a Boss FM20 Laser Engraver, which allows for the addition of permanent identification to customer parts, providing long term identification and traceability.
Its adjustable open platform allows us to engrave many different shapes, from flat sheet products, wire, and tubing, all the way to bulky objects with extremely awkward shapes.

Rhenium Alloys Acquires
J&M Precision Die Casting
J&M Precision Die Casting produces high quality and near net shape Aluminum and Zinc Die Castings for a diverse group of industries.
jmdiecasting.com

Recent research conducted at RAI aimed at improving the ID surface finish of tubing while allowing for thinner walls yields results. Initial findings of a new production method are very promising. Stay tuned!