Friction Stir Welding / DuraStir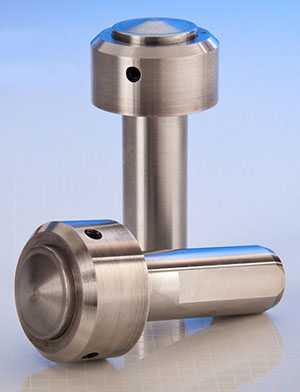 Rhenium Alloys introduces its DuraStir Line of Friction Stir Welding Tools for solid-state joining.
Rhenium Alloys, Inc., a world leader in manufacturing of refractory metals, is proud to introduce the DuraStir Line of Friction Stir Welding Tools. Since 1966 Rhenium Alloys, located near Cleveland, Ohio, has been synonymous with high temperature refractory metals innovation. Our DuraStir Tools are proudly MADE IN USA.
Friction Stir Welding, an innovative welding process where the metal is not melted, joins two surfaces using mechanical pressure applied by a third body tool. A solid-state joining process, FSW creates superior quality, high-strength joints with very low distortion. With excellent mechanical properties, it allows the joining of dissimilar alloys, very large panel lengths and widths, practically defect-free bonding, and is environmentally friendly. FSW avoids many of the metal cooling problems, such as porosity, solute redistribution, solidification cracking and liquation cracking, that are often associated with traditional fusion welding methods.
The Rhenium Alloys DuraStir Line incorporates the latest state of the art Friction Stir Welding (FSW) tool materials and technology. These proprietary tools are used to Friction Stir Weld hard metals such as steel, titanium and nickel based alloys. Heavy manufacturers in the oil and gas, nuclear, and military equipment industries benefit from this exciting new welding material and design innovation. Rhenium Alloys DuraStir tools have extensive applications in the aerospace and defense industries for the welding of Titanium.
Features
Patented Technology

– Rhenium Alloys along with our partner EWI offer Friction Stir Welding tool designs that combine GE patented and licensed tool material.

Production Ready

– Rhenium Alloys DuraStir tools are designed for use in your existing Friction Stir Welding equipment under your operating license.

Custom FSW Tools

– Rhenium Alloys can design custom DuraStir tools to fit your specific technology challenges.
Benefits
Greater Weld Penetration

– The Rhenium Alloys DuraStir tools are capable of welding both thick and thin sections up to 1 inch in a single pass – greater than any other tool available on the market today.

Durability

– These refractory metal based tools are extremely durable and can make multiple passes without damage or excessive wear.

Multiple Use

– Rhenium Alloys DuraStir tools can be re-dressed multiple times extending the life of a single tool and ensuring equitable return on your investment.
Friction Stir Welding Steel Applications
W-25Re – Welding Steel Applications:
Structural and low alloy steels up to 1 in. thick
• A36, AISI 1020, AISI 4140
• High strength low alloy (HSLA) steels
A572, HSLA 80, DS980
• Thermo-mechanical control processed (TMCP) steels
X80, X70
Stainless steels up to 0.5 in. thick
• Austenitic steinless steels
• Ferritic stainless steels
Heat resistant alloys up to 0.5 in. thick
• Inconel 600, Inconel 800
• Monel
• Hastelloy
W-25Re-4HfC – Welding Steel Applications:
All of the above W-25-Re Welding Steel Applications as well as;
Martensitic stainless steels
• 440
Hot work tool steels
• H-13
Higher strength heat resistant alloys
• Inconel 718
W-La – Welding Steel Applications:
All titanium alloys up to 1 in. thick