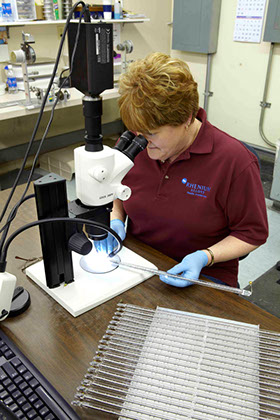 Our proprietary process ensures minimal filament sag, thereby ensuring long life.
Rhenium Alloys' quartz halogen lamps convert approximately 90% input energy into IR radiant heat. In combination with reflectors, the infrared energy can be evenly distributed and optimum temperatures are achieved. Infrared Heater Lamps create an extremely clean, safe, and efficient heat energy source.
Rhenium Alloys' Lamps deliver Rapid Thermal Response full emitted power within 100 milliseconds.
In addition to those for the semiconductor industry, Rhenium Alloys supplies many other specialty halogen infrared (IR) lamps for commercial and industrial applications. We have the capability and expertise to manufacture to customer specifications for new equipment builds and/or any specialty lamp needs.
We have many halogen lamp products that are not listed online. We can supply lamps for nearly any application. Contact us at sales@rhenium.com with your specific need or if you require additional information for a halogen lamp.
Features and Benefits of Rhenium Quartz Infrared Halogen Lamps
Delivers Rapid Thermal Response
Converts 90% electrical input into IR radiant heat
High Quality Standards produce superior long lasting lamps
Quartz lamps are high-temperature heat sources with potentially high-radiant energy concentration – when lamps are installed close together – deliver maximum power density of equipment and process time. High temperature in a very short time on the wafer and short process cycle.
Equipment Applications
CVD Chemical Vapor Deposit
Polysilicon Deposition
Epitaxy / Epitaxial Processing
RTP Rapid Thermal Process
Oxidation
Ion Implant Annealing
Handling Instructions for Quartz Halogen Lamps
Burns at these temperatures can be severe.
Avoid touching Quartz Halogen Lamp with bare hands. Salts and oils on hands can cause devitrification, which can break down the quartz body and reduce lamp performance.
If the quartz body is contaminated, clean with lint-free cloth and alcohol.
Since lamp temperatures exceed 600 degrees, do not handle lamps until after they have cooled.
metalizing Filaments
The Right Selection of Tungsten Metalizing Filaments for Your Thin Film Coating Needs
Rhenium Alloys is a major supplier of Metalizing Filaments to the vacuum metalizing and evaporation industries. They are engineered to provide reliable thin film coatings on automotive lamp reflectors, and various decorative applications in appliances, specialized machinery, cosmetics and more.
We offer coils in a wide variety of designs: single strand ... three strand ... with or without aluminum core ... and open or closed lay. In addition to the popular "Z" leg coil, we provide many other styles, including helix configurations and conical and cylindrical basket designs.
The standard wire size is 3/030 – but many other sizes are readily available.
The extreme high quality of our Tungsten Filaments provides excellent uniform thermal conductivity, ensuring reliable performance and long life. Additionally, we offer expert on-site technical service when and where you may need it.