Proprietary, Patent Pending, Surface Treatment
Rhenium Alloys also offers a proprietary, patent pending, surface treatment which increases the heat transfer efficiency of the filament without adding the risk of contamination from steel shot-peening and other aggressive mechanical operations utilized by our competitors. This allows us to offer the highest purity Rhenium Heater Filament on the market.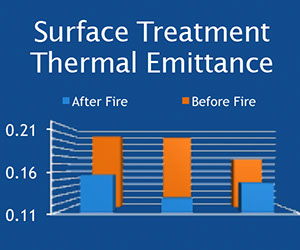 Surface Treatment Thermal Emittance
RAI R
e

Element with Patent Pending Treatment
Highest Initial Emittance
Highest Final Emittance
Ultra-High Purity Rhenium
Larger, More Stable Microstructure
Patent Pending – Zero Contamination Risk Surface Treatment
Rhenium Filament Discounts and Trade-Ins
Rhenium Alloys offers discounts on new rhenium filaments with the trade-in of obsolete or old rhenium filaments.
MOCVD Filament Repair
Rhenium Alloys can also repair minimally damaged filaments on a case by case basis. Although most repairs return the filaments back to original functionality, Rhenium Alloys does not warranty any repaired filaments.
What is MOCVD?
MOCVD stands for Metal Organic Chemical Vapour Deposition, a technique for depositing thin layers of atoms onto a semiconductor wafer. MOCVD allows the build-up of many layers, each of precise thickness, creating a material with specific optical and electrical properties.
Standard Rhenium Heater Filaments by System Type
Rhenium Properties
​Atomic Weight:Density: Melting Point:Boiling Point:Coefficient of Linear Thermal Expansion:Specific Heat:Thermal Conductivity: Ultimate Tensile Strength:Yield Strength at 0.2% Offset:Elongation:Hardness:Strain-Hardening Exponent:Shear Modulus:Elastic Modulus:Poissons Ratio:Creep Strength (2200 ᵒC):186.221.04 g/cm³ 3186 °C5627 °C6.8 μm/m·K from 20 to 1000 °C25.7 kJ/kg·K 25 °C71.2 W/m·K at 20 °C 1130 MPa at 20 °C, 81.70 MPa at 2149 °C379 MPa at 20 °C, 77.2 MPa at 2149 °C 24% at 20 °C, 10% at 2149 °C225 VHN as annealed0.52170 GPa at 20 °C460 GPa at 20 °C, 10.3 GPa at 2149 °C0.4910-h rupture stress, 20 MPa; 100-h rupture stress, 10 MpaMechanical PropertiesThermal PropertiesTypical Properties
Fabrication Characteristics and Chemical Properties
Welding:

Electron Beam welding and Laser joining methods produce extremely ductile joints.

General Resistance to Corrosion:

Oxidation in air is catastrophic above 600 ᵒC due to the formation of rhenium heptoxide (Re₂O₇), which has a melting point of 363 ᵒC. Rhenium is resistant to carburization; it withstands arc corrosion well and has good wear resistance.

Resistance to Specific Agents:

Rhenium is resistant to water cycle corrosion; to sulfuric acid and hydrochloric acid (but can be dissolved by nitric acid); to liquid alkali metal corrosion; and to attack by molten zinc, silver, copper, and aluminum.
Made in USA
Our Rhenium MOCVD Heater Filament products are proudly Made in USA.