Tungsten-Copper (WCu)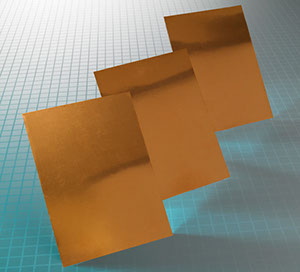 Tungsten-Copper alloy is a pseudo-alloy of Copper and the refractory metal Tungsten. As Copper and Tungsten are not mutually soluble, the material is composed of distinct particles of one metal dispersed in a matrix of the other. Therefore, the microstructure is a metal matrix composite rather than a true alloy. It combines the properties of both metals, resulting in a material that is heat-resistant, ablation-resistant, highly thermally and electrically conductive, and easy to machine. It is also resistant to arc erosion, mechanical wear, and contact welding. Parts are made from the WCu alloy by pressing the Tungsten particles into a desired shape, sintering the compacted part, then infiltrating with molten Copper.
Commonly used Tungsten-Copper alloy contains 10–50 wt.% of Copper, the remaining portion being mostly Tungsten. The typical properties of the alloy depend on its composition. The alloy with less wt.% of Copper has higher density, higher hardness and higher resistivity. The typical density of CuW90 alloy, with 10% of copper, is 16.75 g/cm3 and 11.85 g/cm3 for CuW50 alloy. CuW90 has higher hardness and resistivity of 260 HB kgf/mm2 and 6.5 µΩ.cm than CuW50.
Product Datasheet
Downloads
Tungsten-Copper Sheet, Foil, and Plate
Versatility, Durability and Cost-Effective Performance of the WCu Alloy
Our Tungsten Copper products are preferred where high density, high thermal conductivity or low thermal expansions are critical.
Rhenium Alloys offers Tungsten-Copper in plate, sheet and foil. For over 45 years, Rhenium Alloys has been delivering high performance refractory metals to customers who desire an alloy that can withstand extreme temperatures and harsh environments.
Tungsten Copper products, a staple of the refractory metals industry, are serving growing demands in high technology applications, such as major electronics equipment, security devices, weighted shims, EDM electrodes in electric spark erosion cutting machines, heat sinks, arc contacts and vacuum contacts, and other electrical and electrical/thermal applications. Rhenium Alloys provides these industries with sheet and foil products that deliver optimum quality to meet all specifications for functional performance, precise sizes, finish and packaging to exact customer requirements. We work closely with our customers' design engineering and production personnel to meet all end-use and manufacturing demands.
Rhenium Alloys is a leading manufacturer and supplier of Copper-Tungsten plate, sheet and foil. One source, superior quality and the expertise to meet the growing demands in high performance high temperature materials. With a lengthy track record of satisfied customers around the world, Rhenium Alloys, Inc. is the expert in Tungsten-Copper alloy plate, sheet and foil manufactured products. Contact our expert team to discuss your specifications.
Made in USA
Our Tungsten alloy products, including Tungsten-Copper sheet, plate and foil are proudly Made in USA, in our Northeastern Ohio facility.