Tungsten-Rhenium (WRe)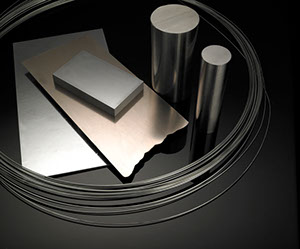 Historically Tungsten 25% Rhenium alloy has been produced into wire for the thermocouple market, but recent demands for high temperature structural components have forced the development of novel processing techniques for Tungsten-Rhenium and Tungsten-Rhenium with hafnium carbide. The hafnium carbide addition is known to increase strength of refractory metals. The applications for these materials are in the joining, medical, aerospace, furnace, and heat treat industries.
Tungsten-Rhenium alloys with a melting point of 3050°C and a recrystallization temperature near 1900°C are being used in aerospace, temperature measuring and friction stir welding applications, such as Rhenium Alloys' Durastir line of FSW tools.
The use of pure Tungsten in thermocouple applications, as the positive element, posed a problem when heating tungsten above its recrystallization temperature (1200°C). This causes the wire to become brittle when reintroduced to room temperature. The addition of Rhenium significantly reduces the brittle characteristics of Tungsten at room temperature. The addition of 10% Rhenium to the Tungsten increases the ductility after the wire recrystallizes, but the 10% addition of Rhenium greatly reduces the EMF response for the thermocouple. Another important property of Rhenium is element's ability to be alloyed with Tungsten and Molybdenum. The addition of Rhenium increases the recrystallization temperature, the ductility, and the ultimate tensile strength of these alloys and decreases the ductile-brittle transition temperatures of Tungsten-Rhenium, and Molybdenum-Rhenium alloys. This property of Rhenium is referred to as the rhenium effect.
Product Datasheet
Downloads
Tungsten-Rhenium Wire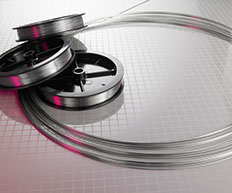 Rhenium Alloys provides a wide range of wire products to serve applications in major electronics products, thermocouples, high temperature furnace parts, and welding requirements.
If your wire needs to have the smallest diameter with the highest strength, Tungsten-Rhenium Wire is the wire to use. Another benefit of WRe wire is elevated specific resistance at the hot and vibration strength. Tungsten-Rhenium Wire has a density almost equal to Tungsten Wire, and is commonly used in thermocouples and electronics products.
Our Rhenium Wire is 99.99% pure and has high strength and excellent ductility. Molybdenum-47.5%-Rhenium Wire is used in welding, electronics and wire mesh grids for the space industries. Tungsten Wire, with its very high tensile strength even at a very small diameter, is widely used for thermocouples, electronic devices, and lighting.
All wire compositions are available in a full range of sizes (as small as .001") to meet your requirements.
Tungsten-Rhenium Flat Wire
One of the few producers in the Americas with this capability, Rhenium Alloys is proud to offer the following flat wire products.
Types of Flat Wire
Rolled (can be produced as thin as .004" with a standard tolerance of .0004")
Drawn
Etched
Secondary Operations
Etching
Ultrasonic Cleaning
Tungsten-Rhenium Rod
Tungsten-Rhenium rod (bar) products are available in a broad range of sizes (up to 6" in diameter) and customized solutions.
Tungsten-Rhenium alloys serve a wide range of applications in electronics, furnace, joining, and aerospace industries. Precise alloying of Rhenium with these other refractory metals adds both ductility and strength to suit customer specifications.
Made in USA
Our Tungsten alloy products, including Tungsten-Rhenium wire, rod and flat wire are proudly Made in USA.